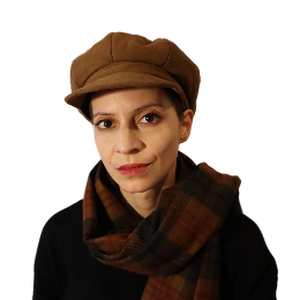 Gracia Kleijnen
Freelance copywriter, UX writer, technical writer, and blogger
About Me
I graduated with a Bachelor's in Business Administration from Hanze University Groningen, the Netherlands in 2014. Afterward, Berlin was calling, so  I answered. Here, I held down a handful of startup, corporate, and agency jobs in Content, Translation, and Operations. 
In 2019, I quit my corporate job to break into programming. It thought this would be my salvation, but I was wrong. Mid-pandemic, I rediscovered writing. Turns out what I wanted was in front of me all along. 
Medium is my chosen home. I publish articles and essays about personal growth, mental health, productivity, tooling, spreadsheets, and relationships. I document and analyze side hustle experiments  in detail, hoping my experience will help someone else who's on a similar journey.
Formal things aside: I'm a typical cat lady who'll ask for permission to pat your dog on the street. Find me at home or in the corner of a cozy cafe with a book, on a long secluded hike, enjoying slow travel, or moving inside a dance studio.
My Work
My writing is featured in 25+ Medium publications, such as Start It Up, Curious, P.S. I Love You, Ascent Publication, The Post-Grad Survival Guide, Meld of Minds, Invisible Illness and many more. Both in May, June, and July 2021, I made it to the top 1,000 and 1,500 writers on the platform. I'm the owner of the Google Sheets Geeks publication where you can steal free Google Sheets templates. 


Previously, I worked as a full-time and in-house UX copywriter at one of Germany's leading agencies for app marketing. I wrote push notifications, Google & Facebook ad copy, and short texts for in-app cards for clients in the car rental, EdTech, telecom, news,  and smart home spheres.
Need a writer? I'm currently for hire me as a freelance copywriter, UX writer or technical writer. So far, I've helped my clients with social ads, blog posts, newsletter, email, website, and landing page copy.
I have 1-2 openings per month for new clients. These spots fill up fast, so slide into my inbox and make me an offer for a project I cannot refuse. 
Scroll through the Blog section on this website to get an impression of my work. Reach out to me if you like what you see and we'll find out if the stars align.